The Hummingbird International Music Festival unites American musicians playing traditional Appalachian music with Mexicans musicians playing traditional Mexican music. It is a multi-national concert event with a Mexican version in the Michoacan Mountains and an American version in the Southern Appalachian Mountains.
The orchestras of both music cultures are very similar with a stand up bass, guitar, mandolin and fiddle. However, the style of play is very different. The Mexican bands pick less and strum more.  When the bands from both countries play alongside of each other, magic will be made as the bands collaborate, share and influence each other. It may be the birth of a new genre of music.
The American bands chosen to represent the Appalachia are CornMaiz and Los Monarchs.  They will provide a wide variety of examples of traditional Appalachian music with the added influences of a modern generation of pickers. The entire experience is being filmed for use as a documentary to be released later.
---
CornMaiz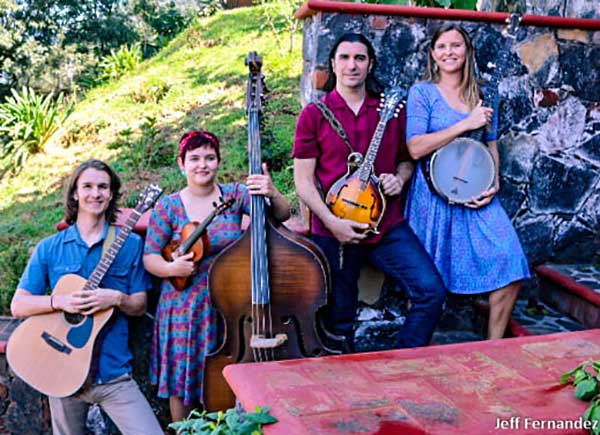 CARLA GOVER
Carla Gover is a 7th-generation Kentucky musician, dancer, and songwriter.  Onstage, she sings, plays guitar, and showcases the rhythms of Appalachia through flatfooting and clawhammer banjo. Her performances include a mix of the traditional tunes she grew up with as well as her socially-conscious originals. She shares her passion with hundreds of students each year in schools throughout Kentucky, where she teaches Appalachian music, dance, and culture.  She has released 5 albums of music, and has toured nationally and internationally, performing at such venues as The Kennedy Center and The Glasgow Royal Hall. She has won numerous national awards for her songwriting, including Merlefest's Chris Austin Contest and the Kerrville New Folk Award. She is recognized as a master traditional dancer by the Kentucky Folklife Program.
YANI VOZOS
Yani Vozos is a singer/songwriter and multi-instrumentalist (guitar, mandolin, charango, and sitar) originally from Estill County, KY. He performs original music in many styles ranging from acoustic folk-rock rhythms to funky jazz grooves to traditional old-time and bluegrass, as well as the Latin music he began exploring during his service for the Peace Corps in Honduras. His music is upbeat with writing that focuses on positivity and universal spiritual connections with the earth that everyone can relate to. Yani writes music directly from his heart with the intention of sending out vibrations of love and joy to inspire people around the world. In addition to his performing career, he regularly teaches workshops in schools around the state of Kentucky, with an emphasis on creating increased access to the arts for underserved populations, refugees, and immigrants.
ARLO BARNETTE
Arlo Barnette is an accomplished guitarist and percussionist from the mountains of Bath County, Kentucky, who has studied many styles (including traditional Kentucky music) from a young age. He is set to graduate from Morehead State College with degrees in English and Spanish.His stylistic range and formidable chops add flavor and virtuosity to the band, and his charismatic performance style makes him a joy to watch onstage.
ZOEY BARNETTE
Zoey Barnette was raised on the road with her musical family, and has been fiddling since the age of 5, learning from such Kentucky greats as Paul David Smith, John Harrod, Jamie Wells, and Jimmy McCowan. She later tacked on upright bass, guitar, piano, and banjo to her repertoire of instruments, taking time to develop her songwriting and harmony-singing chops along the way. She attended the School for the Creative and Performing Arts in Lexington, KY, and currently performs in the ensembles CornMaiz, Cornbread & Tortillas, and Zoe Speaks, in addition to pursuing her work as an artist and stylist.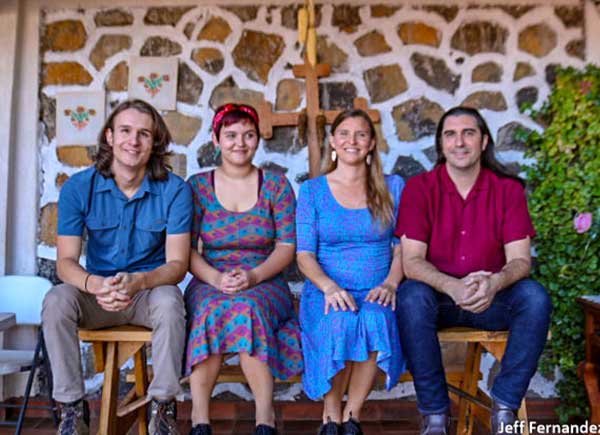 ---
Los Monarchs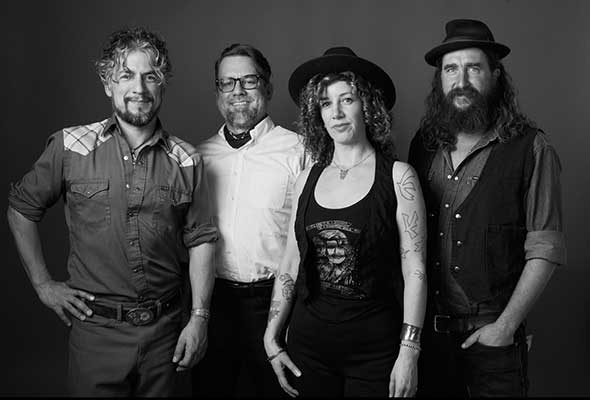 Cruz Contreras
Multi-instrumentalist, vocalist, songwriter, and producer Cruz Contreras has roots in Tennessee and Michigan, but has impacted Americana music worldwide. 
The frontman, founder, and driving force behind The Black Lillies' raw and rootsy sound also co-founded Robinella and the CCstringband, and has collaborated with musicians ranging from John Oates and Jim Lauderdale to Langhorne Slim and The Turnpike Troubadours. Cruz's projects have topped both the Billboard and Americana radio charts, won Independent Music Awards, and been nominated for the Americana Music Association's Emerging Artist of the Year award.  He has performed countless times on the Grand Ole Opry.
Cruz has appeared on nationally broadcast television including Late Night with Conan O'Brien, CMT, VH-1, GAC, Bluegrass Underground and PBS Television's Sun Studio Sessions. His music has been lauded by outlets as diverse as American Songwriter Magazine, Rolling Stone, NPR's Morning Edition and Vanity Fair, among others.
Sabra Guzmàn
Sabra cut her musical teeth in several punk rock bands on America's West Coast.  Like many who are drawn to the grit and fire of rock n' roll – Sabra found herself drawn to the early troubadours and stringbands of the American South.  She had to go there.  She relocated from San Francisco to the Shenandoah Valley of the Appalachian Mountains in the early 2000s and quickly formed "Old Sledge,"  an award-winning band, with Chance McCoy (Old Crow Medicine Show).  After touring with Old Sledge, The Crooked Jades, the Mercury Dimes, and more – Sabra decided to immerse herself in yet another musical culture – relocating to the capital of Cajun Country – LaFayette, Louisiana – in 2015.  Sabra has earned worldwide recognition as Louisiana's premier Cajun bassist (as member of bands like the Daiquiri Queens  and more) and one of America's premier honky tonk country singers (with her own band 'Sabra and the Get Rights').As a powerful bassist and guitarist, Sabra has performed and recorded with a laundry list of American traditional musicians.  Her new album – to be recorded by Americana legend Dirk Powell – will also focus on her Latina roots – featuring songs both in Spanish and English.
Ferd Lione Moyse IV…"Ferd 4″
Greenville, Mississippi is the home of the Delta Blues.  Ferd 4 is undisputedly Greenville's blues fiddle hero.
Ferd was born and raised surrounded by the best of country blues, and performs to this day with several blues and country artists on the banks of the Mississippi River all over the Mississippi Delta.  Like so many who are drawn to the grit and fire of early blues music – Ferd found himself drawn to the early troubadours, stringbands, and fiddlers of the Southern Appalachian Mountains.  He moved from Mississippi to Asheville, North Carolina in the early 2000s.  His blues roots and his new mountain home merged to form his absolutely unique fiddle style and songwriting approach.  Nobody on Earth plays fiddle like Ferd 4.  He was quickly hired as fiddler for the world-famous Hackensaw Boys, played with Morgan O'Kane, sat in with just about everyone in the business, and has recently embarked on a solo career as 'Ferd 4' – from his new home in New Orleans, Louisiana.
Matt Morelock
Knoxville, Tennessee native, Matt Morelock has been immersed in and influenced by bluegrass and mountain music from birth.
Through television, radio, performance, music instruction, museum curation, festival production, and more – Matt has sought to uncover hidden histories and find the similarities shared by traditional musics and musicians worldwide.  He has toured Europe, China, Africa, and the United States as a banjo-wielding ambassador of cultural connection, dance, and fun.  He has shared the stage with artists as diverse as Jackson Browne, Mike Campbell, Jack Johnson, Charlie Acuff, Xiao Xiannien, Ricky Skaggs, Puka Asing and more.  From Tennessee to Africa to China to Hawaii and back…Matt has devoted his life to helping musicians and music lovers to come together – to dance – to sing – and to build a more beautiful world as one.